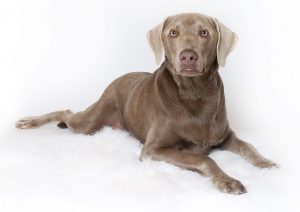 This past week, my dog, Blue and I celebrated the 3rd anniversary of us adopting each other.  He's such a sweetheart and I so relish our life together.
Although it's taken me awhile, I'm finally getting better at translating his different types of mumbling, grumbling and singing behaviors when he's trying to get my attention.  And, now that I'm returned from my most recent trip, he seems to be listening a bit better to me, as well.
Part of the key is for each of us to slow down a bit so that we CAN take the time to listen to each other.  Now, it's one thing for me to make a conscious choice to pause for a moment so that I can offer him my full attention.  And, I think it's how I'm better able to differentiate between "I gotta go pee", "I wanna play", "I'm hungry" or "Please give me some love".
But, it's a whole 'nother thing to expect him to control his inbred Lab impulsiveness!  However, I've been gradually incorporating new behaviors that invite him to slow down a bit–especially as it relates to eating!  For example, he'd already grown accustomed to "down-stay" a few feet away as I carry his food dish to his eating area.  Although, I must admit, the resulting drooling for that moment or two is pretty gross–albeit amusing!
This past week, I re-introduced the idea of stuffing his veggie treats into a Kong.  He sees it as an extra treat-within-a-toy and seems to stay occupied longer than with just the food.  I also found a new food dish, a Siensync Slow Feeder Dog Bowl and found that he'll now take about 3 minutes to eat a meal–rather than the usual 20 seconds it used to take him.  Here's a cute [34 sec.] video of his reaction to the new dish =>
Who knows?  Maybe all this "slowing down", "paying attention" and "enjoying" will have further benefits for us both!