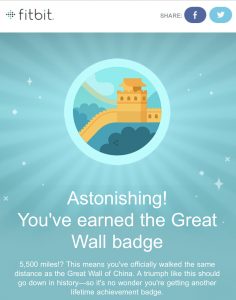 I don't know about you, but I don't seem to have the kind of body that does well with prolonged exercise.  At least not during the past 30+ years.
Don't worry, I'll spare you the boring details.  They're not the important part of this story.
Rather, I wanted to share how wonderful it felt to unexpectedly receive the "Great Wall badge" from fitbit in my email.
Wow! 5500 miles I've walked since I started tracking my steps.  I don't know how long it's taken me, but that doesn't matter, somehow.  Blue and I don't always get to the targeted 10,000 steps per day.  However, we DO walk every day.
We're not competing with anyone.  I had recently discovered I feel really uncomfortable awakening a dormant competitive spirit inside of me after a friend invited me to join her in a weeklong fitbit "distance" competition.  On the other hand, I DID enjoy sharing a designated scenic "hike" with her.  Simply enjoying the scenery without any need to come in first.
One step in front of the other.  One moment at a time.  One day at a time.  Sometimes a bit slower than others – there might be vistas to savor or roses to smell.