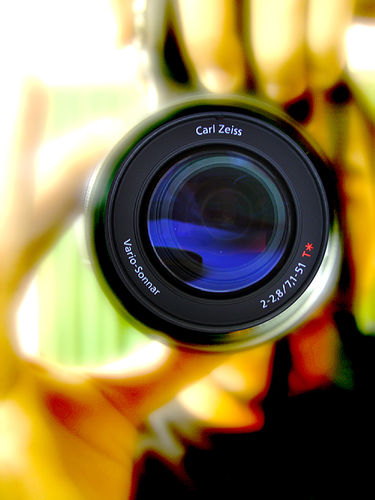 Are you "out of focus"?
Often, I'll be talking with someone about some aspect of self-care in their lives, and they will respond with a phrase that includes the word focus.  For example, "I just need to focus on getting more exercise (or eating right, getting more sleep, etc.)."
Is this how it is for you?
You may be thinking something like this:  "Yes, I know I need to take better care of myself.  I just need to make the time and do it.  But how?  I know, I'll make an appointment with myself, and not allow anything to distract me away."
It's as if you're trying to focus a bright light on whatever needs your attention, while also putting blinders on to keep your attention from being pulled away.
Focused attention is a great skill to have – especially within an environment that rewards multi-tasking and short attention spans.  Plus, it's pretty important within the practice of Focused Self-Care.  However, Focused Self-Care includes another kind of focus, and requires a different metaphor.
Focused Self-Care includes Focusing IN, not just ON
One way to begin to understand Focused Self-Care is to think of how a camera lens enables us to bring something into better focus.   In a similar way, Focused Self-Care offers a gentle, compassionate process that enables us to bring understanding and clarity into our lives while also gaining a sense of being more fully ourselves.
Focused Self-Care builds upon the foundational skill of Focusing, which involves a special way of pausing and being with a life-issue (e.g., a strong emotion, challenging relationship, stuck situation, difficult decision, a creative project, a fresh opportunity, etc.) that offers fresh perspective, new possibilities and renewed energy to move forward.
In this brief [1.46 min] video, I offer a description of what Focusing means – for me.
Focused Self-Care helps you create and sustain a slightly shifted sense of perspective that can end up making a world of difference–for both yourself and those you care about.
The first step involves learning how to "be with yourself" in a gentle, compassionate way that can then blossom into that sense of well-being that's been so elusive.
Getting started
There are several ways for you to get started:
A one-to-one Guided Focusing Session is one of the best ways to initially experience Focused Self-Care and begin to receive its benefits.
You are also welcome to attend an upcoming Virtual Changes Gatherings, which are offered free-of-charge twice a month using Zoom.
My mentor, Ann Weiser Cornell offers a wonderful on-demand video course called Shift that helps you learn on your own time and at your own pace.